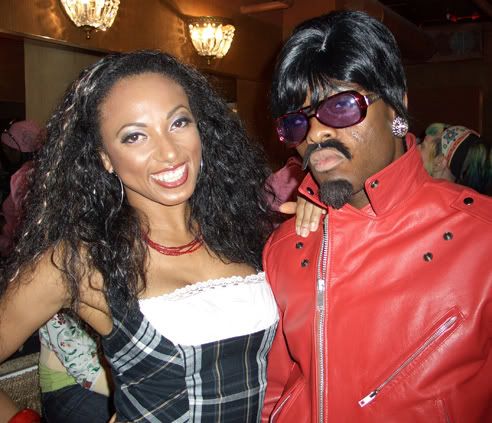 Cedric The Entertainer and Victoria Vives with Kel Mitchell
Cedric the Entertainer is set to make his directorial debut with the indie comedy "Chicago Pulaski Jones." It centers around a young championship dancer, Jones, who heads to the big city for his shot at superstardom.
To be released in 2009.
Starring:
Kel Mitchell, Cedric the Entertainer, Ty Hodges, Katerina Graham, Tommy Davidson, Gary Sturgis
It was a pleasure for me working with Cedric. He has this great energy that made the set feel like home, a home for a big family!
Kell Mitchell portrayed Chicago Jones AND Pretty Eyed Willy. Totally hilarious!!! He is highly talented: Actor, Comedian, Host, Singer, Dancer... you name it! He is hilarious and he does his own stunts pretty well!!!! Impressive!

Mystery Men poster with Kel Mitchell & Ben Stiller | Ty Hodges & Victoria Vives filming Chicago Pulaski Jones
He worked with Ben Stiller in Mistery Men to name some of his films, and in many Television Series. I now realize that he has been in two Televison shows I've been: Attack of The Show and Dance 360! So maybe we met before :)
Check out this music video parody where he is portraying Michael Jackson based on
R. Kelly and Usher's "Same Girl" video (with all my respects for this three Pop and R&B Stars)
:
CLICK HERE TO SEE THE VIDEO
Enjoy it!
VICTORIA VIVES
http://www.victoriavives.com/

Be my friend in Myspace :)
http://www.myspace.com/victoriavivesfuego